We may earn money or products from the companies mentioned in this post..
We are hosting a Homeschool Moms' Retreat for you!! Woohoo!! And I can couldn't be more excited to be organizing this event for 10 awesome reasons I will share with you today!!
I've been counting the days but had to keep it a secret because guess what? I just had plastic surgery and have been recovering! LOL Call me crazy, right? I wasn't sure if I could pull it all together and move at the same time but I did!! In fact, the preparations for this Homeschool Moms' Online Retreat has just blown me away.
They Call Me Blessed is made of an amazing community of homeschool moms and I am beyond blessed to have such an amazing team of friends who have been blog contributors since we launched on February, 2016. I am so honored to work with such inspiring homeschool moms!
And honestly, this will be like smashing a mom's retreat, a pajama party and a mom's night out all together!!!
So first and foremost, let me make this invitation official to you.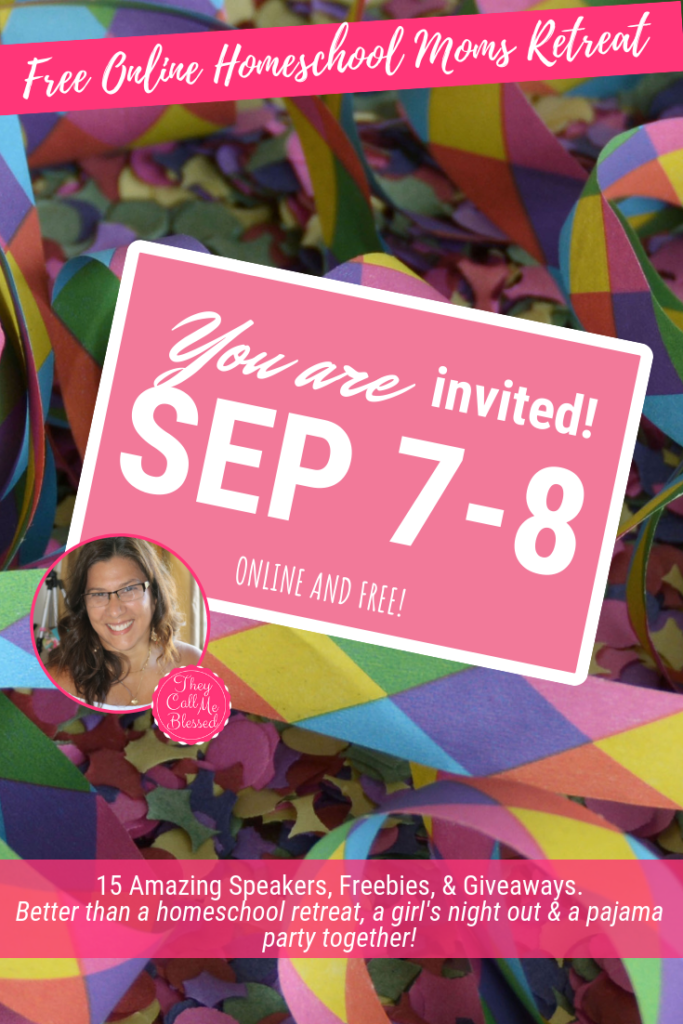 [Tweet "You are invited to They Call Me Blessed's FREE Homeschool Moms' Online Retreat!"]
Ok, now I must tell you when and where!
This coming up weekend September 7th-8th on our Facebook event page.
The celebration will start on Friday 09/07 at 6 pm and it will end on Saturday at 9 pm EST with some fun games and giveaways!
During the event, several amazing homeschool bloggers and former homeschool moms will be sharing their wisdom and expertise in many homeschool related topics with us through videos or live Facebook live broadcasts.
How is that for a NOT back to school celebration?
I am so beyond blessed to have had the privilege to get to know and learn from so many amazing homeschool moms from around the world in these past years! And you will be so encouraged!
10 Awesome Reasons Why You Should NOT Miss Our Homeschool Moms' Retreat
1 – It's A Celebration!
What a privilege it is to be able to homeschool our children and we want to celebrate that!
2 – It's Online.
No excuses not to attend! You can join us and have fun on your PJs.
3 – It's Free.
Did you hear that??? It's FREE!! No cost at all.
Ok. These 3 first ones should get you pretty excited about attending our Online Homeschool Moms' Retreat.
4 – 15 amazing speakers!!
Did you see the list? You will learn from awesome veteran homeschool moms who will help you, encourage you and save you a lot of headaches.
5 – It will be fun!!
It has already been so much fun! Go check out the interaction happening on our Facebook event page.
6 – Community.
We need each other and we are better together, girlfriend!
7 – Support.
You are not alone in your struggles and we are here to help you.
8 – Encouragement.
Let me just say "If you need a cheerleader, you got it!". You will be so encouraged this weekend, I promise you. 🙂
9 – Giveaways.
I LOVE giveaways!! And I am a giver! So expect some pretty fun prizes this weekend.
10 – Watch the sessions on demand.
You will not miss anything! All sessions will be there for you when you are ready to watch it or rewatch it!
Are you ready to RSVP?
Find Homeschool Encouragement
Shop Our Products & Courses
Related Products: