This post contains affiliate links. We may earn money or products from the companies mentioned in this post and/or earn a commission on products mentioned in this post.
It's a Christ-Centered Christmas Blog Party! I love Christmas and I love parties. I guess you know this well by now.
I'm dreaming of a Christ-Centered Christmas just like the ones we used to know… Yes, you can sing that to the tunes of A White Christmas. It seems that the only reason for Christmas is getting lost in the midst of so many other characters that have nothing to do with Christmas and I believe it is time to rescue that.
Which is why 23 Christian bloggers and I have come together to host a Christ-Centered Christmas Blog Party and we want to specially invite you to join us! The focus of this blog party is to celebrate the birth of our Lord Jesus Christ and to draw closer to Him this Christmas season.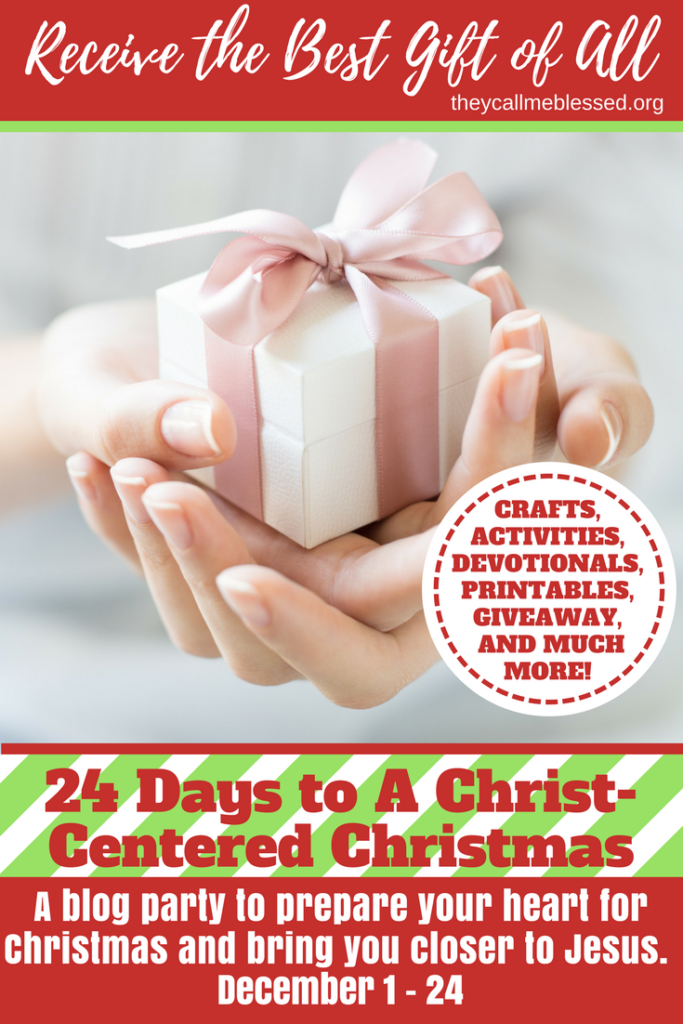 Year after year, from the moment Thanksgiving is over, we are often filled with distractions from every angle that take away the true meaning of Christmas which is the celebration of the birth of Our Lord Jesus and without Jesus, Christmas makes no sense.
This is a time of awe and wonder to contemplate all God has done for us by sending His only Son to live amongst us.
For unto us a Child is born,
Unto us a Son is given;
And the government will be upon His shoulder.
And His name will be called
Wonderful, Counselor, Mighty God,
Everlasting Father, Prince of Peace.
Of the increase of His government and peace
There will be no end,
Upon the throne of David and over His kingdom,
To order it and establish it with judgment and justice
From that time forward, even forever.
The zeal of the Lord of hosts will perform this.

Isaiah 9:6-7
What gift God has given us! And what a reason to celebrate!
Who are the 24 blogs participating in the 24 Days to A Christ-Centered Christmas Blog Party
Catch up with all the Christ-Centered Christmas posts here:
[catlist name="christmas"]
We have put together gifts that will bring you closer to the Savior, gifts that will strengthen your character and inspire you to be strong in your faith and in the gifts of Your heavenly Father has given you!
Check out these Christmas posts:

Ana is the unhurried homeschool mom of 3, wife, and homeschool blogger.
She loves to encourage, inspire and empower moms to go from stressed to blessed by providing them with the tips, strategies, and resources they need to succeed. Ana is the founder of They Call Me Blessed and the creator of:
5 Days to Your Best Homeschool Years,
Hebrew for Homeschoolers,
Charlotte Mason Online Conference,
The Homeschool Sisterhood,
Grow Your Blog Partying in 30 Days, and
the Beyond Blessed Life Planner.
She leads a vibrant free community for homeschool moms on Facebook and you can connect with her at www.facebook.com/theycallmeblessedblog.