This post contains affiliate links. We may earn money or products from the companies mentioned in this post and/or earn a commission on products mentioned in this post.
How about some Christmas Writing Prompts to get your kids' hearts ready for the Holidays?
The holidays are quickly approaching. That means it is time to start shifting our focus from everyday work toward lessons that focus our hearts and minds on Christ and His birth.
Having Christ-centered, fun and engaging printables is important. Children learn so much better when they are engaged. When planning your Christ-centered Christmas lessons, you should think a bit more outside of the box – errr, workbook! Easy to use printables are great for doing just that.
The Birth of Jesus Writing Prompts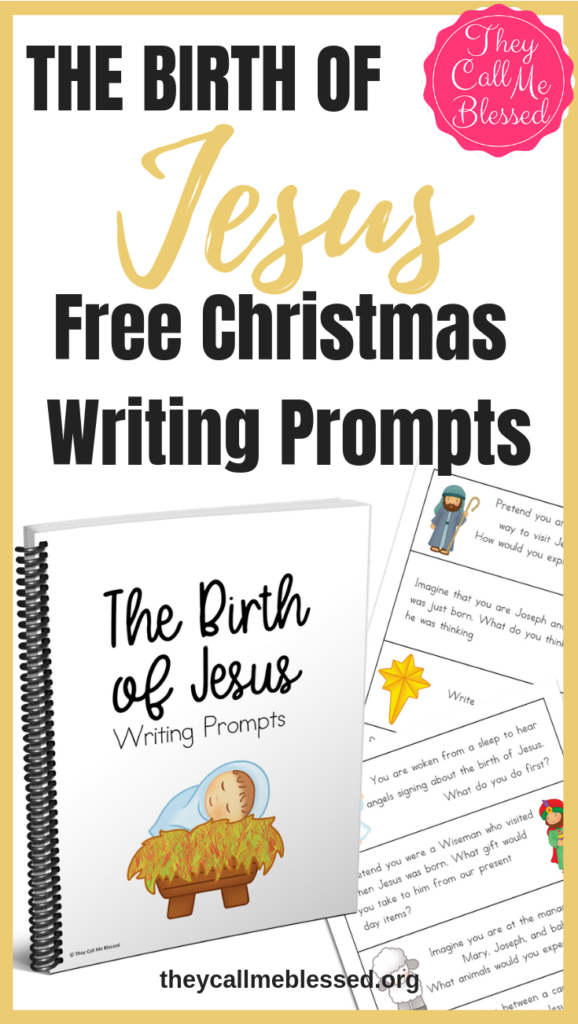 Christmas writing prompts are a great tool to get your children interested in writing while learning more about the Christmas story. After all, Jesus is the reason for the season, right? And let's be honest, it is not so easy to find good Christ-centered homeschool resources out there. So we created one for our family and for yours too.
Even the most reluctant writer can have fun using writing prompts. They are a great starting point for your child to allow their imaginations to run wild!
Your children can pretend to be Wisemen on a trek to meet our savior.
They get to write a song that the angels would sing to Baby Jesus. (This is my personal favorite!)
Their creativity will begin to flow as they try to decide what gift from today's time they would offer to Jesus if they were there. Take your writing prompts further!
Extra ideas on how to use these writing prompts
Share the stories with family and friends!
Mail them out in cards.
Take them to a nursing home and gift them to shut-ins!
Spend some time with your children coming up with your own fun writing prompts. – If you do this, come back and share what you came up with in the comments. I would love to read them!
What is included in Birth of Jesus Christmas Writing Prompts pack
• 8 Different writing Prompts
• 6 Lined writing pages – 3 with manuscript lines and 3 with double-spaced lines
This pack is for children ages 7+ and parents who want to join in on the fun of the season.
So grab your Christmas writing prompts printable, bake some cookies, pump up the Christmas songs and have some fun while teaching your kids all about the only reason to celebrate the season – Jesus!
Don't forget to comment and share with us how your kids will enjoy this printables!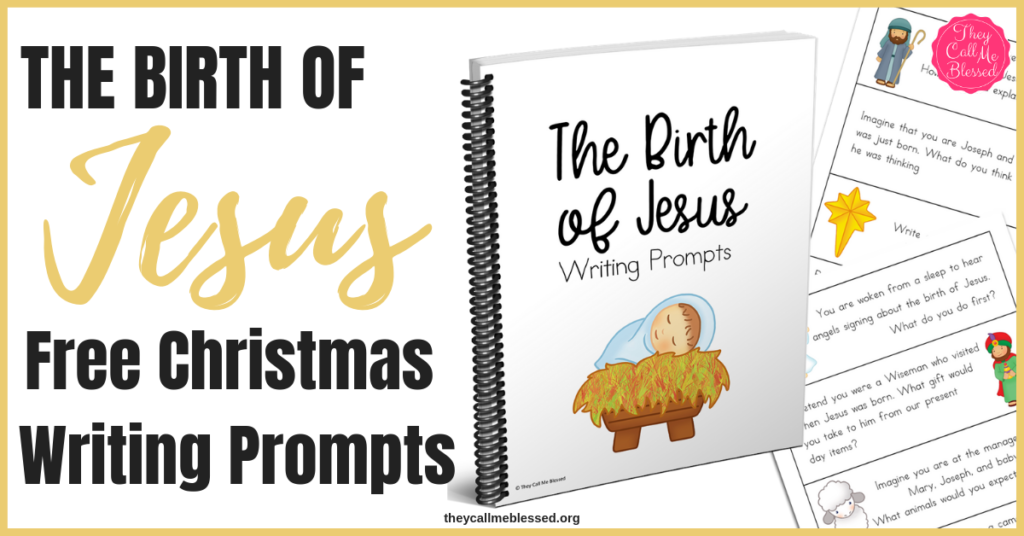 Read more Christ-centered posts, Advent activities and resources
[catlist name="Christmas"]
Find Christ-Centered Christmas Decor & Gifts Here
Holy Birth 9-Piece Ceramic Nativity Scene with Mossy Stable

Precious Moments

23 Pieces, 5-Inch The Real Life Nativity – Includes Lighted Stable, Palm Tree and Chests of Gold, Frankincense and Myrrh

Willow Tree Nativity Starter Figures with Three Wisemen Plus Metal Star Backdrop, 10-Piece Set

Willow Tree Nativity, sculpted hand-painted nativity figures, 6-piece set

Fraser Hill Farm 6.5-Ft. Wide Nativity Scene, Blow Up Inflatable with Lights and Storage Bag, FHFNVTY071-L

The Nativity Story

Fisher-Price Little People Christmas Story

Holy Family Three Kings and Shepherd Christmas Nativity Nesting Dolls Set of 9

Willow Tree The Holy Family, Sculpted Hand-Painted Nativity Figure

B-E-L-I-E-V-E Nativity Resin Christmas Decoration Set of 7 Letters – Size 1.75 in Tall

BrylaneHome Crystal Splendor Outdoor Scenes, Christmas

Melissa & Doug Wooden Nativity Set

Collections Etc LED Flameless Christmas Nativity Scene Candles, Holiday Home Decor Accents – Set of 3

Willow Tree Shepherd and Stable Animals, Sculpted Hand-Painted Nativity Figures, 4-Piece Set

YUNLIGHTS 6.5FT Christmas Inflatable Nativity Scene, Blow Up LED Light Christmas Inflatable Jesus for Outdoor Indoor Garden Yard Lawn Party Holiday Decoration

Willow Tree Nativity Starter Figures with The Three Wisemen Plus Camel, 13-Piece Set

National Tree Company lit Artificial Christmas Décor White Includes Pre-Strung Mini LED Lights and Ground Stakes-Crystal Holy Family Nativity-4.5 ft

16 Piece Deluxe Edition Christmas Nativity Set with Real Frankincense Gold and Myrrh – 7 inch Scale

EasyGO Set Outdoor Nativity Christmas Decoration-Outside Yard, 6 Foot Tall

Royalty Free Premium Christian Images for Mac [Download]

Royalty Free Premium Christian Images for Mac [Download]

FrontYard Originals Holy Family Outdoor Nativity Set – Medium

Chasing The Star

Best Choice Products 6ft Lighted Christmas Holy Family Nativity Scene Outdoor Yard Decoration with 190 LED Lights, Stakes, Zip Ties

Front Yard Originals Outdoor Nativity Set, Large – White

Enesco Pillars of Heaven Nativity Set

The Nativity

Teak Isle Christmas Joy Nativity Yard Sign

Kurt Adler 12-Piece Nativity Set with Wooden Stable

Lenox 806053 Holiday 7-Piece Mini Nativity Set

Best Choice Products 4ft Christmas Holy Family Nativity Scene, Outdoor Yard Decoration w/Water-Resistant PVC

Willow Tree Metal Star Backdrop, Hand-Painted Nativity Accessory

Willow Tree Nativity Deluxe Starter Plus The Three Wise Men and Camel, 14-Piece Set

Light up 3 piece Nativity Scene Holy Family Set Christmas Decoration Durable

Note Card Cafe Large Outdoor Nativity Scene Yard Display Set | Front Lawn Sign Christmas Décor | 55

Tidings of Joy Fabric Advent Calendar (Countdown to Christmas)

The Nativity Story



























Fisher-Price Little People A Christmas StoryLED Flameless Nativity Candles – Set of 3Nativity Playset for Children 19 Pieces by BibleToys. Includes Mary, Joseph, Baby Jesus. Christmas Toys for ChildrenMelissa & Doug Classic Wooden Christmas Nativity Set With 4-Piece Stable and 11 Wooden FiguresFisher-Price Little People NativityPLAYMOBIL Nativity Stable with MangerKurt Adler 11-Piece Nativity SetThe Nativity StoryThe NativityOutdoor Nativity Store Holy Family Outdoor Nativity Set (Large, Color)EasyGo Large Outdoor Nativity Scene – Large Christmas Yard Decoration Set and Reusable For Many Years!!Winter Wonderland Holiday Nativity Set LED ProjectorNativity Shadow BoxChristmas Holiday Nativity Mason Jar Decal Sticker Set – 24 Sheets2 Dozen (24) Make a NATIVITY SCENE Sticker Sheets Religious Education – VBS CHRISTMAS Party Classroom Activity FAVORS – Holiday GIVEAWAY by OTCCelebrating a Christ-Centered Christmas: Seven Traditions to Lead Us Closer to the SaviorCelebrating a Christ-centered Christmas: Children's EditionA December To Remember: Creating Christ-Centered Family TraditionsA Christ Centered ChristmasJoy to the World: A Devotional Journal for AdventHow to Create a Christ-Centered Christmas for Your Kids: Practical, Hands-On Activities to Help Your Child Focus on Christ at Christmas12 Gifts for Christ: Traditions, Activities, and Devotionals for a Christ-Centered Christmas12-Day Nativity: Christmas Activities for a Christ-Centered HomeDiscovering the True Spirit of Christmas: Fifteen Minutes a day to a Christ-centered ChristmasChristmas: It's Jesus' Birthday, Not Yours (30 Day Devotional Series)Teaching the Gifts of Christmas: A Christ Centered Family Christmas Time TraditionChristmas Without Santa Creating a Christ-Centered Christmas

Ana is the unhurried homeschool mom of 3, wife, and homeschool blogger.
She loves to encourage, inspire and empower moms to go from stressed to blessed by providing them with the tips, strategies, and resources they need to succeed. Ana is the founder of They Call Me Blessed and the creator of:
5 Days to Your Best Homeschool Years,
Hebrew for Homeschoolers,
Charlotte Mason Online Conference,
The Homeschool Sisterhood,
Grow Your Blog Partying in 30 Days, and
the Beyond Blessed Life Planner.
She leads a vibrant free community for homeschool moms on Facebook and you can connect with her at www.facebook.com/theycallmeblessedblog.
Related Products: