This post contains affiliate links. We may earn money or products from the companies mentioned in this post and/or earn a commission on products mentioned in this post.
These 9 slim down smoothies are absolutely delicious! This is how I intentionally add nutrition to my body in the mornings and how I make sure my kids are getting enough fruits and vegetables in their bodies as well. Check out how I change my kids' health for better.
But I have a confession to make…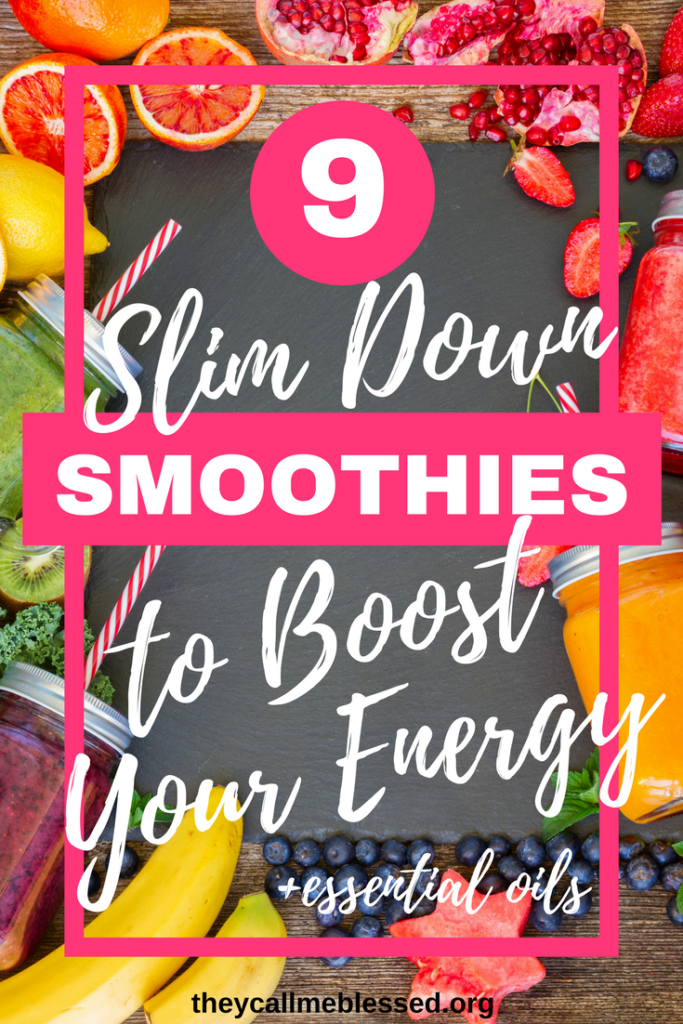 With all the craziness with this long distance moving season of our lives, I haven't been eating the way I used to and as a consequence of it I have gained weight and my energy levels are super low.
I know I need to reset my body as quick as possible!
Do you feel like you also need a body reset? Do you need more energy?
**This post contains affiliate links. Please read my full disclosure here.**
Slim Down & Boost Your Energy by Adding Good Nutrition to Your Body
Smoothies are delicious, easy, fast to make, and packed with nutrients that makes you satisfied longer and boosts your energy! It literally takes me less than 2 minutes to make my smoothies in my Nutri Ninja Auto IQ.
Smoothies are also a great way to transition to a healthier eating plan or to get back on track after slipping out during the holidays or a stressful moving season like me.
Eating healthy does not have to be complicated or expensive. We should really have no excuse to take better care of ourselves and eat healthily.
Use Essential Oils to Support Your Body
I am a huge fan of essential oils and I add essential oils to my smoothies for extra goodness! Essential Oils are powerful. You can learn more about it here.
You can add lemon, orange, lime, grapefruit, Fitness Essential Oil Blend, or this Lymph Support Essential Oil Blend to any smoothie you wish. I suggest picking one essential oil and adding 1-2 drops to help support the body to cleanse and reduce the toxic load.
I also add a drop or two of lemon essential oil in my glass water bottle to sip on during the day.
Ready to start having more energy and feel great?

Here are 9 Slim Down Smoothies You Can Start Drinking Today
#1 GREEN GOODNESS
2 cups spinach
Handful dandelion greens
1 1/2 cup water or non-dairy milk (coconut, hemp, or almond milk)
2 tablespoons tahini
1/2 cup frozen grapes
1 tablespoon flax meal
#2 BERRY BEAUTY
1 cup romaine
1 cup kale
1 1/2 cup water or non-dairy milk (coconut, hemp, or almond milk)
1/2 cup strawberries
1/2 avocado
1 tablespoon flax meal
#3 FRUIT GREEN MACHINE
2 cups spinach
1 1/2 cups coconut water or coconut water kefir
1 cup chopped pineapple
1 avocado
#4 SWEET SUNSHINE
1 cup spinach or kale
1 handful cilantro
1 1/2 cups water or non-dairy milk (coconut, hemp, or almond milk)
1/2 cup frozen berries
1 tablespoon coconut oil
1 tablespoon raw cacao
½ frozen banana
#5 SUPERFOOD ENERGY
2 cups spinach
1 1/2 cups water or non-dairy milk (coconut, hemp, or almond milk)
1/2 cup frozen mango
1 tablespoon flax meal
2 tablespoons bee pollen (optional)
1 teaspoon chia seeds (optional)
#6 KALE IS KING
2 cups kale
1 1/2 cups water or non-dairy milk (coconut, hemp or almond milk)
1 cup frozen berries
1 teaspoon honey or 1-2 drops liquid stevia
1 teaspoon flax meal
#7 CHOCOLATE CHERRY BOMB
1/2 cup frozen cherries (fresh optional)
1 1/2 cups water or coconut, hemp or almond milk
2 cups spinach
1 handful parsley
1 teaspoon raw cacao
1/2 teaspoon cinnamon
1 teaspoon honey or 1-2 drops liquid stevia
1 tablespoon unsweetened shredded coconut (optional topping)
#8 THE ORANGE BLITZER
1 cup spinach
1 orange, peel removed
1 1/2 cups coconut water or coconut water kefir
1/2 banana
1 handful parsley
5 mint leaves
1/2 teaspoon vanilla extract (optional)

#9 SPRING BLISS
2 cups kale
1 cups frozen berries
1 1/2 cups water or non-dairy milk (coconut, hemp or almond milk)
1/2 banana
1 tablespoon coconut oil
1 tablespoon shredded coconut flakes
3 Brazil nuts*
*This is a great smoothie. Brazil nuts are a fabulous source of selenium, which is good for the thyroid. The recommended serving is one ounce per day since they contain high amounts of selenium.
I like to make sure I'm adding about 20g of plant-based protein to my smoothies. Protein is the building block of your body, it will make you feel fuller and sustain you for much longer. You can use one scoop of Juice Plus+ Complete (my favorite because it's delicious and also contains ancient grains like amaranth and quinoa!) or combine 4 tablespoons of hemp hearts with 1 tablespoon of chia seeds to make about 20g of protein.

Ready to try these 9 slim down smoothies?
I am not inviting you to start a diet! Far from me, because I know as a certified health coach that diets don't work! I am inviting you to add more nutrition to your body. Smoothies are delicious and the way to go if you are thinking about living a healthier lifestyle.
So for 9 days only, I want to challenge you to ditch the starving cup of coffee with zero nutrition in it and replace it with a slim down smoothie of your choice! Don't forget to add your favorite essential oils to it! Those little drops are powerful and packed with natural benefits.
So what do you say?
I'm ready to reset my body, eat better and feel better. Are you?
---
Disclosure of Material Connection: Some of the links in the post above are "affiliate links." This means if you click on the link and purchase the item, I will receive an affiliate commission. Regardless, I only recommend products or services I use personally and believe will add value to my readers. I am disclosing this in accordance with the Federal Trade Commission's 16 CFR, Part 255: "Guides Concerning the Use of Endorsements and Testimonials in Advertising."

Ana is the unhurried homeschool mom of 3, wife, and homeschool blogger.
She loves to encourage, inspire and empower moms to go from stressed to blessed by providing them with the tips, strategies, and resources they need to succeed. Ana is the founder of They Call Me Blessed and the creator of:
5 Days to Your Best Homeschool Years,
Hebrew for Homeschoolers,
Charlotte Mason Online Conference,
The Homeschool Sisterhood,
Grow Your Blog Partying in 30 Days, and
the Beyond Blessed Life Planner.
She leads a vibrant free community for homeschool moms on Facebook and you can connect with her at www.facebook.com/theycallmeblessedblog.